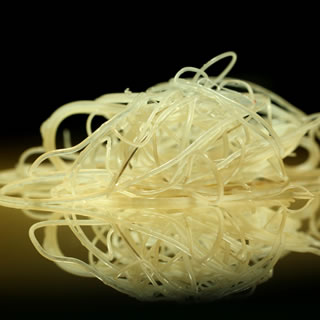 Yes it is bad and here is why!
What causes heartworm disease?
Heartworm disease is a serious and potentially fatal disease in pets in the United States and many other parts of the world.  It is caused by a blood-borne parasite known as Dirofilaria immitis that lives in the heart, lungs and associated blood vessels of affected pets, causing severe lung disease, heart failure and damage to other organs in the body.   Adult heartworms may live up to five years and, during this time, the female produces millions of offspring called microfilaria. These microfilariae live mainly in the small vessels of the bloodstream. Heartworm disease affects dogs, cats and ferrets, but heartworms also live in other mammal species, including wolves, coyotes, foxes, sea lions and—in rare instances—humans.
Difference Between Heartworm for Dogs and Cats
Dogs. The dog is a natural host for heartworms, which means that heartworms that live inside the dog mature into adults, mate and produce offspring. Heartworm disease causes lasting damage to the heart, lungs and arteries, and can affect the dog's health and quality of life long after the parasites are gone.
Cats. The cat is an atypical host for heartworms, and most worms in cats do not survive to the adult stage. Cats with adult heartworms typically have just one to three worms, and many cats affected by heartworms have no adult worms. While this means heartworm disease often goes undiagnosed, it's important to understand that even immature worms cause real damage in the form of a condition known as heartworm associated respiratory disease (HARD). Moreover, the medication used to treat heartworm infections in dogs cannot be used in cats, so prevention is the only means of protecting cats.
What is the life cycle of the heartworm?
The mosquito plays an essential role in the heartworm life cycle. Adult female heartworms living in an infected dog, fox, coyote, or wolf produce microscopic baby worms called microfilaria that circulate in the bloodstream. When a mosquito bites and takes a blood meal, it picks up these baby worms, which develop and mature into the "infective stage" over a period of 10 to 14 days. Then, when the infected mosquito bites another dog, cat, or susceptible wild animal, the infective larvae are deposited and enter the new host through the mosquito's bite wound. Once inside a new host, it takes approximately 6 months for the larvae to develop into sexually mature adult heartworms. Once mature, heartworms can live for 5 to 7 years in dogs and up to 2 or 3 years in cats.
Where is heartworm disease found?
Canine heartworm disease occurs all over the world and has been diagnosed in all 50 states. Heartworm disease is also spreading to new regions of the country each year. Mosquitoes blown great distances by the wind and the relocation of infected pets to previously uninfected areas also contribute to the spread of heartworm disease.
What do heartworms do to the dog?
In the early stages of the disease, many dogs show few symptoms or no symptoms at all. The longer the infection persists, the more likely symptoms will develop.
Adult heartworms cause disease by clogging the heart and major blood vessels leading from the heart, including the pulmonary artery. They also interfere with the valve action in the heart. By clogging the main blood vessels, the blood supply to other organs of the body is reduced, particularly blood flow to the lungs, liver, and kidneys, causing these organs to malfunction.  Dogs with large numbers of heartworms can develop sudden blockages of blood flow within the heart leading to a life-threatening form of cardiovascular collapse. This is called caval syndrome, and is marked by a sudden onset of labored breathing, pale gums, and dark bloody or coffee-colored urine. Without prompt surgical removal of the heartworm blockage, few dogs survive.
The most obvious clinical signs of heartworm disease are a soft, dry cough, shortness of breath, weakness, nervousness, listlessness and loss of stamina. All of these signs are most noticeable following exercise, when some dogs may even faint or become disoriented. Your veterinarian may notice abnormal lung and heart sounds when listening to the chest with a stethoscope. In advanced cases, congestive heart failure may be apparent and the abdomen and legs will swell from fluid accumulation. There may also be evidence of weight loss, poor condition and anemia. Severely infected dogs may die suddenly during exercise or excitement.
Microfilariae  (immature heartworms) circulate throughout the body but remain primarily in the small blood vessels. Because they are about as wide as the small vessels, they may block blood flow in these vessels. The cells being supplied by these vessels are then deprived of the nutrients and oxygen normally supplied by the blood. Microfilariae primarily injure the lungs and liver. Destruction of lung tissue leads to coughing. Liver injury leads to cirrhosis of the liver, causing jaundice, anemia and generalized weakness. The kidneys may also be affected and allow toxins to accumulate in the body.
What are the signs of heartworm disease in cats?
Signs of heartworm disease in cats can be very subtle or very dramatic. Symptoms may include coughing, asthma-like attacks, periodic vomiting, lack of appetite or weight loss. Occasionally an affected cat may have difficulty walking, experience fainting or seizures, or suffer from fluid accumulation in the abdomen. Unfortunately, the first sign in some cases is sudden collapse of the cat, or sudden death.
How is heartworm disease diagnosed?
In most cases, one or more simple blood tests will diagnose heartworm disease. Further diagnostic tests are essential to determine if the dog can safely undergo heartworm disease treatment, including EKGs and chest radiographs.
When should heartworm disease be tested?
Dogs:
Puppies under 7 months of age can be started on heartworm prevention without a heartworm test, but should be tested 6 months after your initial visit, tested again 6 months later and yearly after that to ensure they are heartworm-free.
Adult dogs over 7 months of age and previously not on a preventive need to be tested prior to starting heartworm prevention.  They, too, need to be tested 6 months and 12 months later and annually after that.
Annual testing is necessary, even when dogs are on heartworm prevention year-round, to ensure that the prevention program is working. Heartworm medications are highly effective, but dogs can still become infected. If you miss just one dose of a monthly medication—or give it late—it can leave your dog unprotected. Even if you give the medication as recommended, your dog may spit out or vomit a heartworm pill—or rub off a topical medication. Heartworm preventives are highly effective, but not 100 percent effective.
Cats. Heartworm infection in cats is harder to detect than in dogs, because cats are much less likely than dogs to have adult heartworms. The preferred method for screening cats includes the use of both an antigen and an antibody test. Your veterinarian may also use x-rays or ultrasound to look for heartworm infection. Cats should be tested before being put on prevention. Because there is no approved treatment for heartworm infection in cats, prevention is critical.
How is heartworm disease treated?
An injectable drug called melarsomine is given to kill adult heartworms in the heart and adjacent vessels. This drug is administered in a series of injections.  Most dogs receive an initial injection, followed by a 30-day period of rest, and then two more injections that are given 24 hours apart.  Many dogs will also be treated with an antibiotic known as doxycycline, to combat potential infection with bacteria (Wolbachia) that inhabit the heartworm.
The adult worms die in a few days and start to decompose. As they break up, they are carried to the lungs, where they lodge in the small blood vessels and are eventually reabsorbed by the body. This resorption can take several weeks to months, and most post-treatment complications are caused by these fragments of dead heartworms. This can be a dangerous period so it is absolutely essential that the dog be kept as quiet as possible and is not allowed to exercise for one month following the final injection of heartworm treatment. The first week after the injections is critical because this is when the worms are dying. A cough is noticeable for seven to eight weeks after treatment in many heavily infected dogs.
Prompt treatment is essential if the dog has a significant reaction in the weeks following the initial treatment, although such reactions are rare. If a dog shows loss of appetite, shortness of breath, severe coughing, coughing up blood, fever or depression, you should notify your veterinarian. Treatment with anti-inflammatories, antibiotics, cage rest, supportive care and intravenous fluids is usually effective in these cases.
Treatment to kill microfilaria. In addition to the drug that is used to kill adult heartworms, your dog will receive a drug to kill the baby heartworms.
Are any other treatments necessary?
Dogs with severe heartworm disease may require antibiotics, pain relief medications, special diets, diuretics to remove fluid accumulation in the lungs and drugs to improve heart function prior to treatment for the heartworms. Even after the heartworms have been killed, these dogs may require lifetime treatment for heart failure.
What is the response to treatment and prognosis?
Dog owners are usually pleasantly surprised at the improvement in their dog following treatment for heartworms, especially if the dog had been demonstrating any clinical signs of heartworm disease. Many dogs display renewed vigor and vitality, improved appetite and weight gain.

How can I prevent my dog from getting heartworms?
You can prevent your dog from getting heartworms by using a heartworm preventive. When a dog has been successfully treated for heartworms, it is essential to begin a heartworm prevention program to prevent future recurrence. With the safe and affordable heartworm preventives available today, no pet should ever have to endure this dreaded disease.
If you have any questions or would like to get your pet tested for heartworm disease please contact Meadowlands Veterinary Hospital at 201-646-2008 or visit us at http://www.meadowlandsvethospital.com
Thank you to the American Heart Society